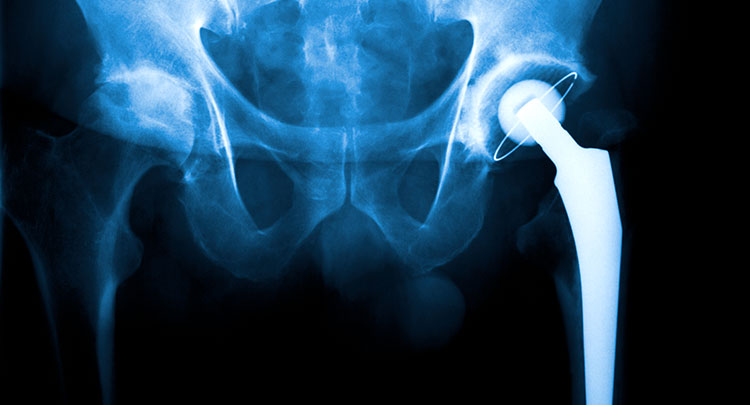 Osteoarthritis is one of the most common joint disorders individuals are diagnosed with, and this chance increases as a person gets older. Arthritis is referred to as joint inflammation or swelling. This is common in many joints in the body, including the hips due to the high amount of stress placed on them with walking, running, jumping, and other movements and activities.

Osteoarthritis occurs when this joint swelling continues over longer periods of time and begins to damage the cartilage or bone in the joint. This damage can include bone deformities and cartilage tears or destruction, and it can lead to further swelling and severe pain. If this damage gets too bad and is too painful to deal with, many individuals turn to hip replacement surgery. However, here at Paragon Sports Medicine we offer stem cell therapy. Mesenchymal stem cells provide a great alternative treatment to surgery that can help to restore hip function and strength, preventing the need for invasive therapy options like surgery.
Where is My Hip Pain Coming From?
The hip joint is where the femur bone in the thigh connects to your pelvis. This is known as a ball-and-socket joint as it is required to move in a variety of directions as opposed to just forward and backwards. While this joint does allow for increased mobility, it is also much more susceptible to damage.
In between the femur and pelvis is cartilage tissue that covers the end of the femur and lines the inside of the acetabulum, which is the socket found on the pelvis. The cartilage is very smooth and allows these bones to pivot and move easily on one another without pain or rubbing.
Over time, this cartilage can begin to wear down, due to either osteoarthritis or just everyday wear and tear. When this occurs, the hip joint can no longer absorb compression and other forces as effectively. In addition, the hip joint can become tender to the touch, lose some of its range of motion and flexibility, and become noticeably stiffer after periods of inactivity. Bone spurs can also occur around the joint, leading to deformities and more pain.
The Problem with Hip Replacement Surgery
When the cartilage in the hip joint begins to wear down, a common treatment option is joint replacement surgery. While this procedure can effectively eliminate pain, there are many complications that can arise during or after the surgery.
Two of these potential complications are blood clots or an infection. Blood clots can form in the veins in the legs, and if they break off, they could flow into the heart, lungs, or brain. If this occurs, it can result in other health complications, or even death. Infection can also occur and cause issues with the joint replacement. In more severe cases, this can require the prosthesis to need to be removed and another surgery to be performed.
There is also the chance that you may need to have a second hip replacement surgery. Over time, prosthetic joints can wear down or they may become dislocated or loose. These issues can cause pain or damage the muscles or other tissues surrounding the joint.
The Advantage of Stem Cell Therapy
Mesenchymal stem cells provide an alternative therapy option that does not involve invasive surgical procedures and that utilizes your own body's cells in order to stimulate tissue healing. Stem cells are produced in the bone marrow, and these specialized cells have the ability to turn into a variety of other types of cells, including cartilage.
Stem cells can be obtained quickly from a person's bone marrow, often being from the crest of the hip bone. This process only involves a small needle and some local anesthetic. After these cells are harvested, they can be injected directly into the damaged hip joint or replicated before injection.
One study looked at 10 individuals who all suffered from hip osteoarthritis. All of these patients received stem cell injections and were followed up over a period of 40 months. After the full follow up time, the patients all noted pain decreases of around 75 percent, with the average pain score being only around one following the injection. Hip function was also significantly increased in all individuals.
Another study confirmed the ability for stem cells to help regrow damaged cartilage and restore joint function. Researchers noted that the ability of stem cells to be administered non-invasively provides many benefits relating to recovery and limiting complications. They also noted the further potential benefits of stem cells if they are given at the same time as platelets that are also derived from a person's own body.
Studies have also been performed to evaluate whether the use of stem cells can improve results if a patient has undergone hip replacement surgery. One study found that stem cell injections given four to six weeks after surgery significantly improved both overall pain levels and functionality scores.
This improvement demonstrates the ability of mesenchymal stem cells to play a major role in hip recovery from damage due to cartilage degeneration. Because these cells are able to create new cartilage tissue, they provide a high upside and great potential to address hip pain and resolve the underlying cause of the pain in a non-invasive way. For more information on stem cell therapy, or how we can help you, please call our office at 470-270-8978 or send us a message.
https://www.webmd.com/osteoarthritis/hip-osteoarthritis-degenerative-arthritis-hip#1
https://www.mayoclinic.org/diseases-conditions/osteoarthritis/symptoms-causes/syc-20351925
https://www.mayoclinic.org/tests-procedures/hip-replacement/about/pac-20385042
https://www.ncbi.nlm.nih.gov/pmc/articles/PMC5467400/
https://www.ncbi.nlm.nih.gov/pmc/articles/PMC5885495/